The Magic of Shinefinity Glossing and How It Can Transform Your Hair
September 13, 2023
Aveda, Chobham hair studio, Hair Treatments, maintain hair colour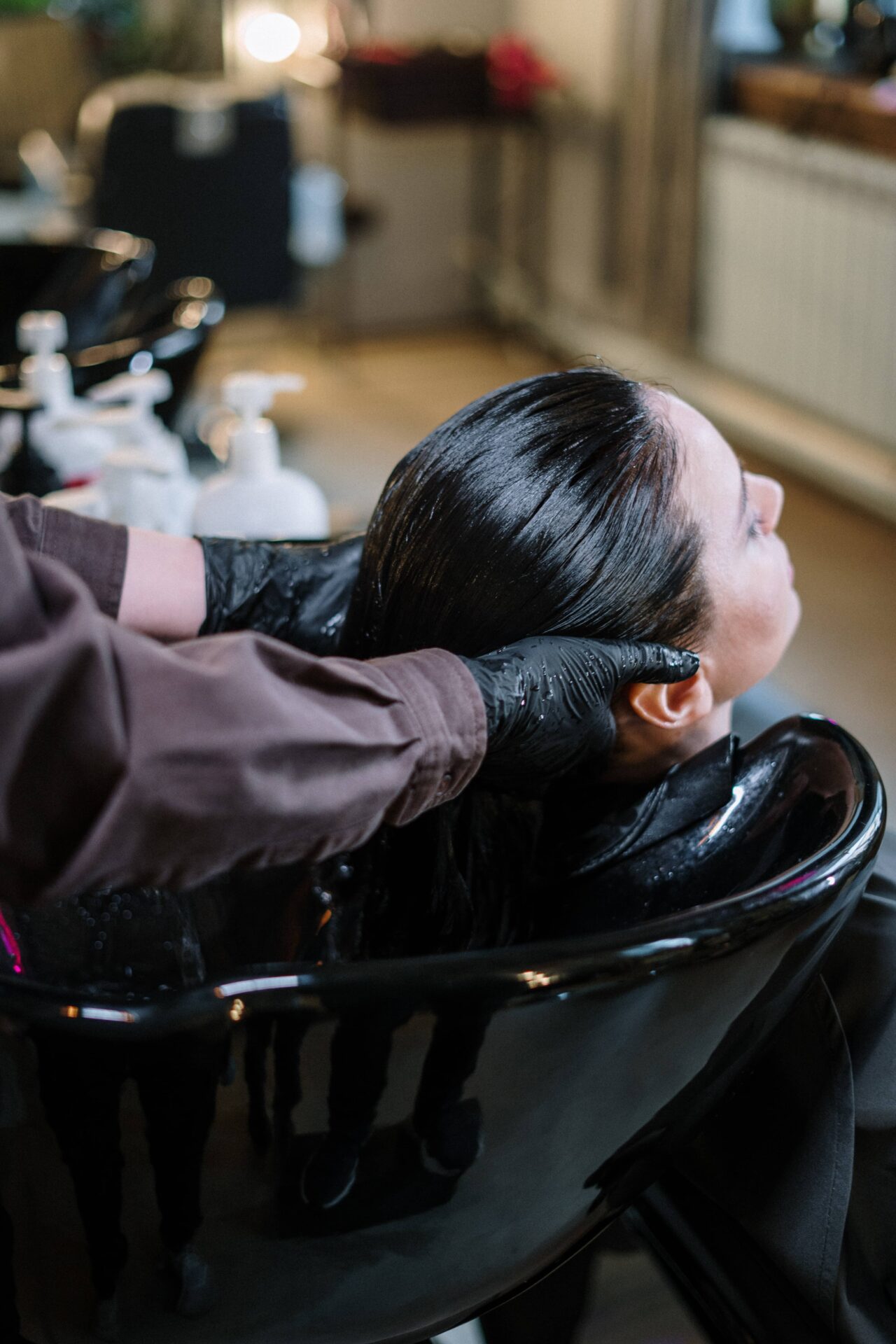 Every once in a while, a new hair treatment makes waves in the beauty industry to transform your hair, and right now, it's all about Shinefinity Glossing. But what's the buzz all about? Let's dive into the world of glossing and understand why it's quickly becoming a must-have hair treatment at Chobham Hair Studio.
What is Shinefinity Glossing?
Shinefinity Glossing is not just a treatment; it's a complete refresh for your hair. It adds a radiant shine, ensuring your hair not only feels refreshed but looks luminous too. But the magic doesn't stop at just adding gloss. It can enhance your hair's natural colour, smooth out those pesky frizzies, and even improve texture.
At Chobham Hair Studio, we believe in bringing only the best products to our esteemed clients. And speaking of the best, let's delve into the brilliance of Shinefinity. An innovation in the world of hair colouring, Shinefinity offers a unique blend of benefits that make it stand out. Here's why we are so excited about it:
1. Gentle Love for Your Hair
Shinefinity is a game-changer, especially when you learn about its impressive list of 'zeroes'. The formulation ensures a zero damage, zero lift, zero ammonia, zero silicone, and zero drying alcohols. This gentle composition guarantees that all hair types, be it delicate, coarse, dry, or fine, are treated with the utmost care. So, for those who desire that hint of colour but are wary of potential hair damage, Shinefinity is the solution you've been waiting for.
2. The Magic of Balanced pH Technology
Science and beauty come together in Shinefinity. It has been crafted to maintain an optimal acidic level that never drops below pH 6.5. This is crutial because a lower pH in colouring can sometimes lead to unpredictable results, especially on hair that is highly porous. By starting off mildly alkaline, the hair cuticles are gently coaxed open, allowing the colour to permeate. It then transitions to an acidic range, ensuring there's zero lift and zero damage. The result? Predictable, stunning colour every time.
3. Universal Appeal for All Base Colours
Shinefinity is the definition of versatility. Whether your hair is virgin, coloured, or even pre-lightened, this product is designed to suit all base colours. However, for optimal results, it's advised not to use a colour reducer, such as Color Renew, prior to glazing. This ensures that the final results are consistent and radiant.
4. Elevating the Natural Charm
One of the standout features of Shinefinity is its ability to accentuate the hair's natural tones. It's designed to give your hair a gentle boost, while honouring the existing highs and lows of your natural shade. As more clients move towards natural-looking colours, this glazing formula is a step ahead, offering a result that's believable, organic, and dazzlingly shiny.
5. Swift, Mess-free and Efficient
With Shinefinity, ease is the name of the game. The mixing process is straightforward – simply combine your chosen shade of the gel crème with either the Brush & Bowl Activator or Bottle Activator in a 1:1 ratio. The application process is just as effortless. Thanks to its non-drip formula, you can apply with confidence, knowing there won't be any unexpected spills or mishaps.
Why Opt for Shinefinity Glossing?
In the vast realm of hair treatments, the Shinefinity Glossing treatment stands out, and for good reason. It doesn't merely transform your hair; it introduces it to a new dimension of brilliance and vitality. Let's dive deeper into the core benefits of this incredible treatment:
Instant Radiance
One of the most palpable outcomes of this treatment is an instantaneous, mirror-like shine. This isn't just any shine; it's the kind that turns heads and makes your hair look rejuvenated, healthier, and bursting with life.
Colour Enhancement
Regardless of whether you're flaunting your natural hue or you've dipped your locks in colour, Shinefinity Glossing elevates it. It doesn't just stop at enhancement; it infuses your hair with a depth making your colour appear richer and incredibly vibrant.
Texture Transformation
Frizz has been the arch-nemesis for many of us. With Shinefinity Glossing, you're not just combating frizz, you're transforming your hair texture. The treatment meticulously smoothens the hair cuticle, bestowing upon you the sleek, buttery finish you've only dreamed of.
Protection Galore
Environmental elements, be it the relentless sun, urban pollution, or even fluctuating humidity levels, can be harsh on your hair. Shinefinity doesn't just make your hair look good; it wraps it in a protective embrace, shielding it from these external adversities.
Now that we've established the foundational benefits, let's explore the varied ways you can experience Shinefinity:
1. The Shinefinity Glaze
The signature Shinefinity service is an experience in itself. Perfect for those craving a translucent tint that revitalises the hair's colour. Whether it's post-bleaching, as an independent shade, or even on uncoloured hair, this service promises a unique glow that's unparalleled.
2. The Speed Glaze
Time is of the essence, and sometimes, there's a need for quick beauty fixes. Enter the Shinefinity Speed Glaze. Crafted for those moments when you're pressed for time or need a touch-up between appointments, this treatment requires a mere 10 minutes on towel-dried hair. The result? A delicate, soft shimmer that's ineffably elegant.
3. The Corrective Glaze
Correcting colour disparities needn't always be a long, drawn-out process. For minor adjustments and gentle corrections, the Shinefinity corrective glaze steps in. It deftly manages uneven tones or darkening needs without the necessity of pre-filling. The trick? Always apply to dry hair to ensure maximum absorption and effect.
4. The Balancing Glaze
Hair colour balance is an art, and Shinefinity perfects it with the Balancing Glaze. Imagine combining the prowess of Koleston Perfect or Illumina Color for root shadowing or coverage with Shinefinity's brilliance on the mid-lengths and ends. The process is seamless: first, the root shadow is applied and left for about 10 minutes. Then, the glaze joins the party for another 20 minutes, ensuring every strand is in harmonious colour symphony.
SPECIAL OFFER!
In the spirit of introducing more people to this transformative treatment, we have a special offer you won't want to miss. Book an appointment with our talented New Stylist, Candra, available exclusively on Tuesdays & Thursdays, and receive a FREE Shinefinity Glossing treatment worth £25!
The Chobham Hair Studio Experience – Transform Your Hair
While Shinefinity Glossing is our newest star, it's essential not to forget the broad spectrum of services we offer. From Avedacolour treatments that provide a depth of colour unparalleled in its vibrancy to the re-texturising services that give your hair the body and bounce you've always wanted, we have it all.
Styling is an art, and each one of us has a unique canvas (our hair!). Our experts at Chobham Hair Studio ensure that whether you're looking for a casual wash & blow-dry or an elaborate hair up for special occasions, or to completely transform your hair –  you're covered.
Not just limited to hair, our manicure services are top-notch too. Imagine getting your nails done while your hair soaks in the goodness of Aveda products? Sounds like a day of pampering, doesn't it?
Meet Candra, Our New Stylist
Introducing Candra, a gem in the world of hairstyling, bringing with her a vast reservoir of knowledge, skills, and passion that spans over 19 years. With such an extensive background, Candra's arrival at Chobham Hair Studio is indeed a cause for celebration.
A Journey through Aveda and Beyond
Candra's journey in hairdressing is nothing short of inspiring. Beginning her career with an Aveda salon, she quickly climbed the ranks, honing her skills and making a mark as a dedicated stylist. Her association with Aveda, a brand known for its holistic approach to beauty, helped Candra develop a keen understanding of the intricacies of haircare and the value of natural, sustainable products.
Specialized Skills: Beyond the Ordinary
Taking a detour from the mainstream, Candra also worked in a renowned London salon specialising in addressing ladies' hair loss. This unique experience taught her the importance of sensitivity, discretion, and specialised techniques to help women regain their confidence and embrace their beauty.
Furthermore, Candra has graced many weddings with her talent as a bridal hairstylist. Crafting elegant, timeless hairstyles for brides, she ensures they look their absolute best on their special day.
Why Hair? In Candra's Words…
For Candra, hairdressing isn't merely a profession; it's a passion. "I have always loved making women feel their absolute best," she says. "Hair plays such a pivotal role in one's self-image. Being entrusted to be a part of someone's hair experience is both an honour and the very reason I cherish my job!"
A Fresh Chapter at Chobham Hair Studio
With her rich background, Candra is all set to weave her magic at Chobham Hair Studio. "I eagerly look forward to meeting new faces, building bonds, and being an integral part of your hair journey," she shares with a twinkle in her eye.
Conclusion
At Chobham Hair Studio, we pride ourselves on offering the crème de la crème of hair treatments, and Shinefinity Glossing is no exception. It's more than just a treatment; it's an embodiment of all that we stand for – radiance, vitality, and the pursuit of perfection. Whether you're seeking a quick shine boost, a colour enhancement to transform your hair, or a comprehensive corrective procedure, Shinefinity's versatile range promises results that transcend mere aesthetics. Hair isn't just about looks; it's an expression, a statement, and with treatments like Shinefinity, you're bound to make an impression. Dive into the luminous world of Shinefinity at Chobham Hair Studio, and let us redefine your hair experience. Remember, every strand tells a story, and with Shinefinity, yours is bound to shimmer.