Why to use a hair stylist on your wedding day or special occasion.
December 19, 2022
Occasion Hair, Occasional Hair, Wedding Day Hair, Wedding Hair Guide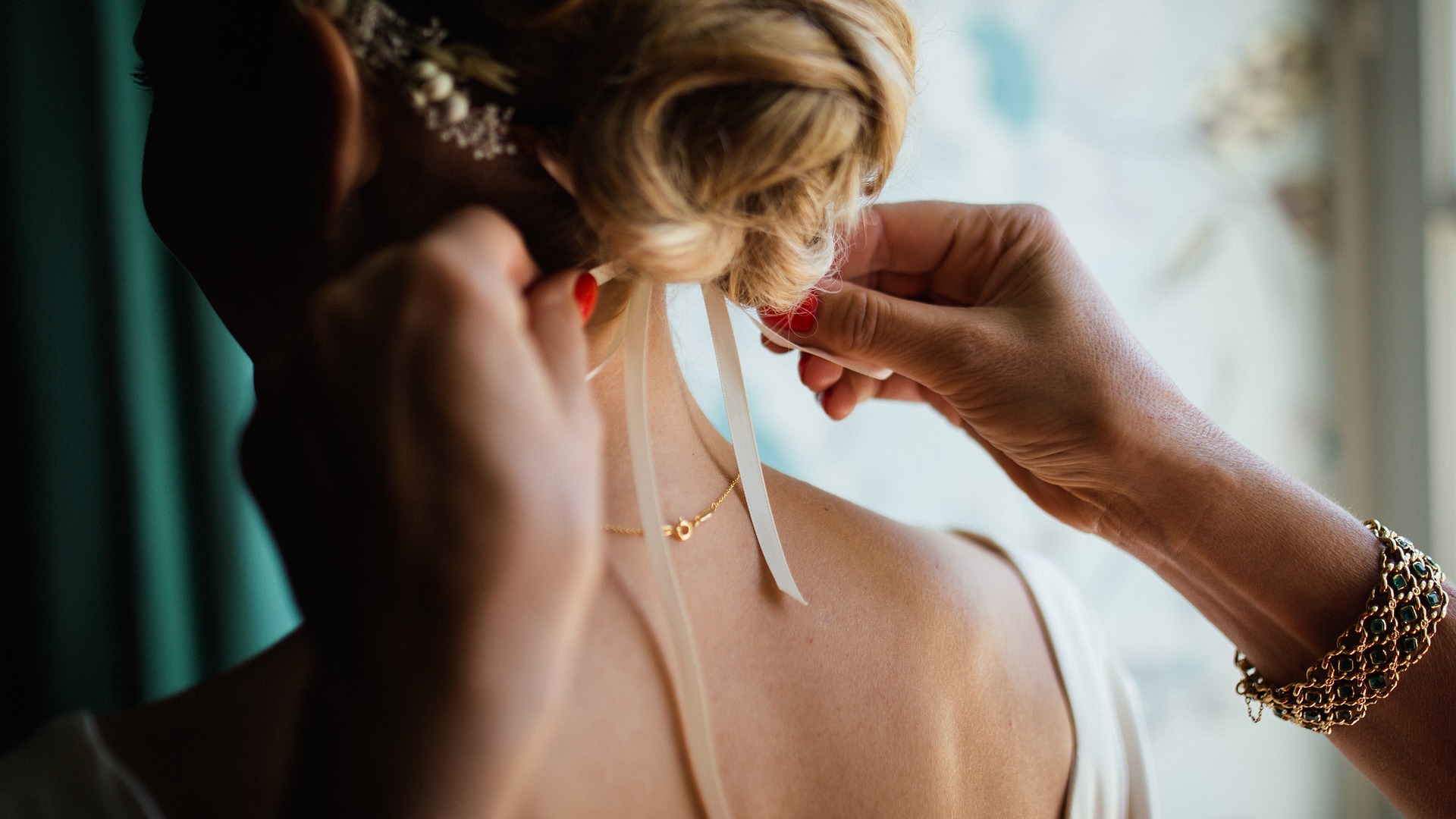 Getting married is the most important day for millions of people around the world, so making sure the day goes just as you planned can make the lead up to your wedding day an anxious experience – Which is not what you want! 
Spending so much money on an experience of a lifetime should be joyful, filled with all of your favourite things and surrounded by people you love. So if it is an option for you, it is a great idea to surround yourself with wedding industry experts. 
On your wedding day, it's easy to get swept up in the excitement and anticipation of the event. However, it's also important to take in the moments so truly enjoy and appreciate all that you have worked so hard for leading up to this day. After all, your wedding day is a one-time event and experience that you will never forget – so it should be perfect in every way possible. This is why having a bridal specialist for your hair is such an important part of the wedding day process.
Chobham Hair Studio can ensure that you are looking absolutely stunning on your special day. Not only do our hair specialists possess the experience, they also have the skill to make sure that you have the perfect do for your wedding day – Leaving you to look back on your experience as stress-free and enjoyable as possible!
Below are some reasons why you should hire a Chobham Hair Salon professional for your wedding day or special occasion!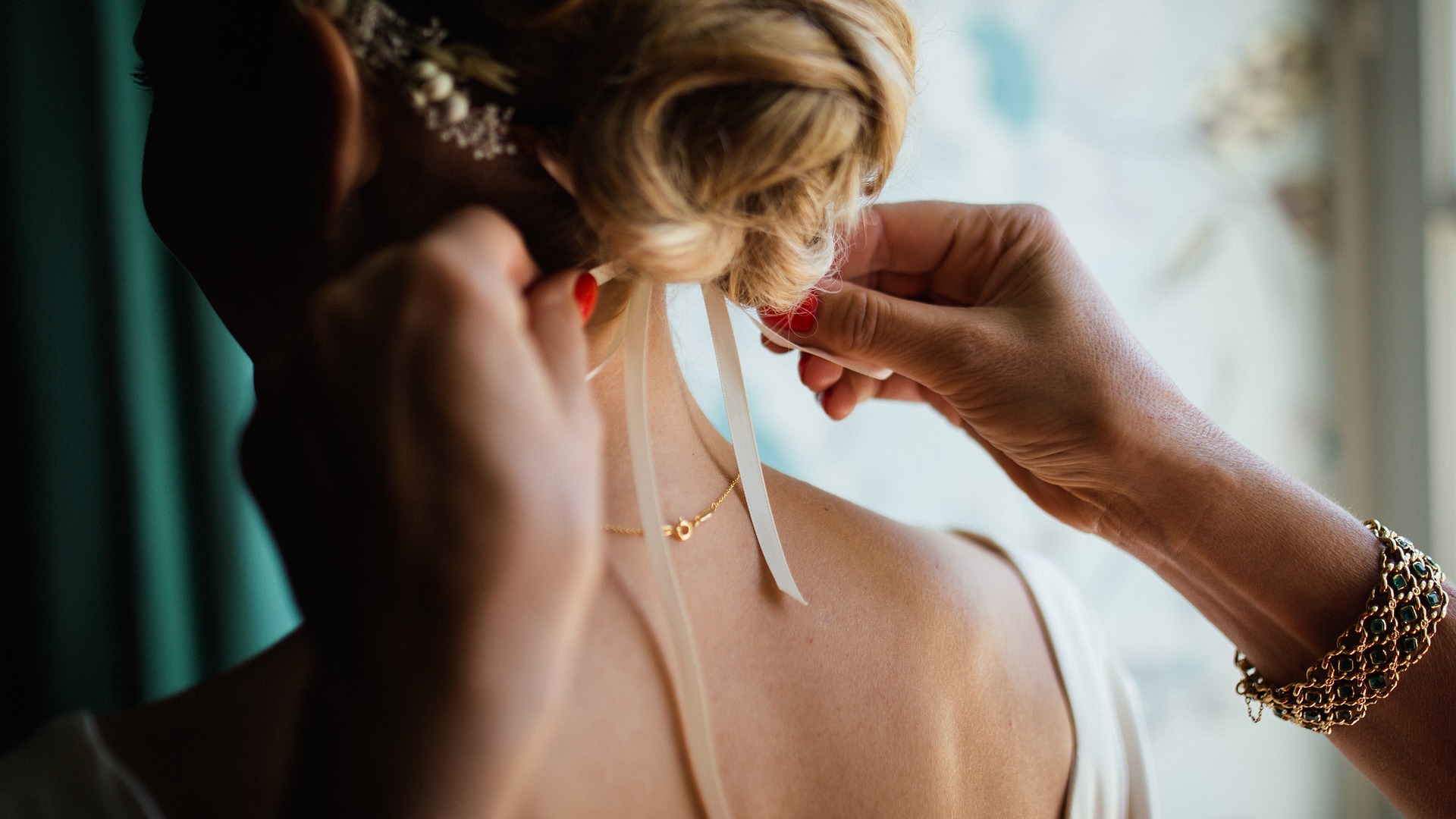 How a bridal stylist can help
They can provide expert advice
A bridal specialist can help ease stress and anxiety on a wedding day by providing expert styling services that will make you look and feel beautiful. Not only do bridal specialists know what styles work best with your facial structure, they also understand the time constraints of preparing for a wedding. 
They are trained to create looks that take into account the brides' hair colour, texture, style preferences, as well as any decorative elements or accessories that may be used (you didn't spend all that time searching for the perfect dress without the perfect hair right?).
Additionally, bridal specialists also have access to products unique to bridal styling. With their expertise in bridal beauty trends, bridal stylists can help you choose the perfect hairstyle for your big day. Not only can they suggest styles suitable to the theme of the wedding, they can also recommend bridal accessories that will add to your bridal look.
Minimise unnecessary stress
In addition to helping you create a beautiful bridal look, bridal stylists can help reduce pre-wedding anxiety by providing a calming and reassuring experience when you're getting ready for your special day. A bridal specialist is used to managing the time constraints of a wedding day and can make sure everything runs quickly and smoothly as possible.
Chobham Hair Studio professional stylists are all experienced with working with Brides on their wedding day, so will be able to advise you on the day with industry advice and knowledge.
Making sure that you have a trial
During your hair trial, your stylist will also take into account the time of day and setting of your wedding or event to recommend the perfect style. If you're getting married outdoors, for example, they may suggest a style that is more low maintenance and easy to maintain in wind and humidity.
Your hair trial can also be a great opportunity to chat with your stylist about any concerns or questions you have about your hair on the big day. They can give you tips on how to prepare your hair for thestyle, as well as advice on how to maintain it throughout the day or evening.
By having a hair trial before your wedding or event, you'll be able to relax and enjoy yourself on the big day knowing that your hair is taken care of!
Making sure you have a style that suits you the best
A bridal specialist can guarantee that you look absolutely stunning on your wedding day. 
Not only do bridal specialists possess the experience and expertise needed to create a perfect style for you, they also know how to ensure that the style is tailored to your individual needs. Taking into account the natural texture of your hair and adding the perfect finishing touches- bridal specialists have the knowledge and experience needed to create a look you'll love. 
Keeping up to date with the latest trends
Bridal hair stylists must stay up to date with bridal beauty trends if they want to provide brides with the most modern and fashionable looks for their wedding day. 
Stylists can do this by subscribing to bridal beauty magazines, attending workshops, and seminars that are held by leading bridal professionals. A hair specialist can keep up with bridal beauty trends by subscribing to bridal magazines and publications that regularly feature the latest bridal hairstyle trends. 
This will provide the stylist with a wealth of information on the current bridal looks that are popular in the bridal world. 
Hiring Wedding Industry experts
We have ensured that we have hired dedicated industry professionals to work in our salon to make sure that you are getting the best experience and service possible. Our stylists keep up with the latest trends and continue to develop their knowledge by attending courses to improve their techniques. 
Chobham Hair Studio ensures that all of their professionals are fully trained and have not only the experience but the support to ensure that they can deliver the best service possible for their new and existing clients. 
Recently, Chobham Hair Studio has hired Candra as a Senior Stylist. She has been working as a hair stylist for the past 19 years and she 'absolutely loves' her job! 
Candra has been fortunate enough to cover many aspects of hairdressing during her career and has specialised in bridal hair and ladies hair loss. 
She says "I have always loved to make women feel their very best throughout my career, Hair is so important and to be part of someone's hair experience is the reason why I love my job!". 
If you would like to book Candra for your next appointment, contact the salon on 01276 855 585.
About Chobham Hair Studio
Chobham Hair Studio is situated in Chobham Surrey and has been open for X amount of years. The driven and diverse salon ensures that everyone that leaves has a wonderful experience that is accompanied by unrivalled cuts, treatments and services. 
Currently, the hair studio has over 25 five-star reviews on Google who have enjoyed the Chobham Salon experience and we are a part of the exclusive Aveda Family who have identified our superb skill set.
When it comes to bridal hair, brides should never compromise on quality. Hiring a professional bridal hair stylist to work in Chobham Hair Studio is the perfect way to guarantee flawless bridal looks for your wedding day. 
Our experienced stylist team provides a calming experience and offers a range of services which include: 
Colouring

Styling

Re-texturing

Wash & Blowdry

Aveda Colour

Hair up Styling 

Occasional Styling 

Wedding Styling 

And manicure services with our amazing nail technician, Sue
For brides who are looking for a bridal specialist that can provide them with the perfect style for their big day, Chobham Hair Studio in Surrey is the place to be. The team of bridal specialists at the hair studio have years of experience and expertise in creating stunning bridal looks for brides all across the Surrey area. They offer brides the perfect combination of bridal beauty advice, styling experience and creativity to ensure that brides are looking their absolute best on their special day.
Contact us today to talk through your hair needs by giving us a call on 01276 855 585 or email us chobhamhairstudio1@gmail.com
Our priority is to treat you and we are currently offering a FREE Shinefinity Glossing (Please contact us for T&C). 
What is Aveda?
Aveda are leaders in professional and sustainable hair care. They have a line of natural products based on ayurvedic medicine which is an Indian Holistic practice that uses plants instead of harmful chemicals. 
Using an Aveda salon like Chobham Hair Studio means you can trust that you are being provided with an amazing hair care option that is not harmful to not only your hair, yourself or the planet. Many customers around the world will only go to Aveda Salons. Chobham Hair Studio has been selected to be a part of the exclusive Aveda family and we are proud to support their products, services and lifestyle. 
If you would like to find out more about our Aveda Approved hair studio, contact us today by calling us on 01276 855 585 or email us chobhamhairstudio1@gmail.com.