Don't Miss These Hair Colour Trends For The Winter
October 19, 2022
Hair Colour Trends, Hair Colour Trends For The Winter, Ultimate Hair Guide
If you're looking for a reason to bring out the new you, you're in luck! We've got a list of the hottest hair colour trends for the winter that are sure to keep you looking perfect all season long.
From rich, deep colours to bright and icy tones, there's something for everyone. So why not give one of these looks a try? You'll feel so much better for it and can benefit from an amazing experience you get at our professional studio.
Read on to find out how you can achieve these styles with a truly stunning result.
Moody Hair Colour Trends For The Winter
First, for those wanting to follow the dark warmth of winter, there are several shades that will look great this season.
Espresso
Dark brown is always a classic choice that looks great on just about anyone. Most trends will turn lighter locks much darker at this time of year, carrying through until the Spring.
It reflects the change in outfits and allows you to incorporate a number of rich tones. However, if you are suddenly thinking of rummaging through the shelves to find a brown box dye – you may want to think again.
Coming into our professional salon will mean you have the ability to keep the colour quite natural-looking with more than one shade to create depth and texture.
It also means that when we get that glimmer of winter sunshine, the multi colours will shine and the lighter streaks will make an appearance – creating a really luscious and natural look.
Subtle Dark Tones
Deeper shades of red or purple will make a bold statement. If you're looking for something more unusual and striking, try out a blue-black mix. This deep, dark tone is perfect for those wanting to make a dramatic change in colour without sacrificing their natural hair completely.
It is also quite a style choice – something that reflects your personality and allows you to express yourself, while keeping it more muted than going for one colour all over.
These deep shades also set you up perfectly for the festivities to come! Dark maroons and purples get you in the Christmas spirit while also remaining trendy well into the new year. They are colours that pair well with any outfit choice and any hairstyle is set to show off your new look.
Copper
The soft shades that are currently on trend are also embraced during the winter months.
Copper is a fun and playful choice, as it allows you to change up your hair colour seasonally without having to worry about maintaining it. It has multiple tones within it, so one day you can have darker rusty tones and then switch to light honey if the mood takes you.
These light tones always look great on anyone, whatever your skin tone or hair type. They'll stand out against dark outfits and keep you looking radiant no matter what time of year it is.
So, whether you're looking for hair colour trends with a bit of pizzazz or something more neutral and natural, you're sure to find what you're looking for with these trends for the colder season.
With a little help from a professional hair salon, you'll have hair that is as on-point as your wardrobe this season. So get ready to strut your stuff and rock these colours with confidence!
Light Hair Colour Trends For The Winter
If you're someone who loves to stand out from the crowd, there are other hair colour options that can really make a statement.
Blondes
Blondes have long been associated with sunshine, and these are no different.
From platinum blondes to warmer honey tones, there are so many options when it comes to hair colour choice in the wintertime. There's also the added benefit of being able to really play around with hair colour trends – from bright colours to darker overtones that provide definition against lighter hair choices.
Caramel
This is a great colour choice for those wanting to keep their hair light, but get slightly darker tones into the look.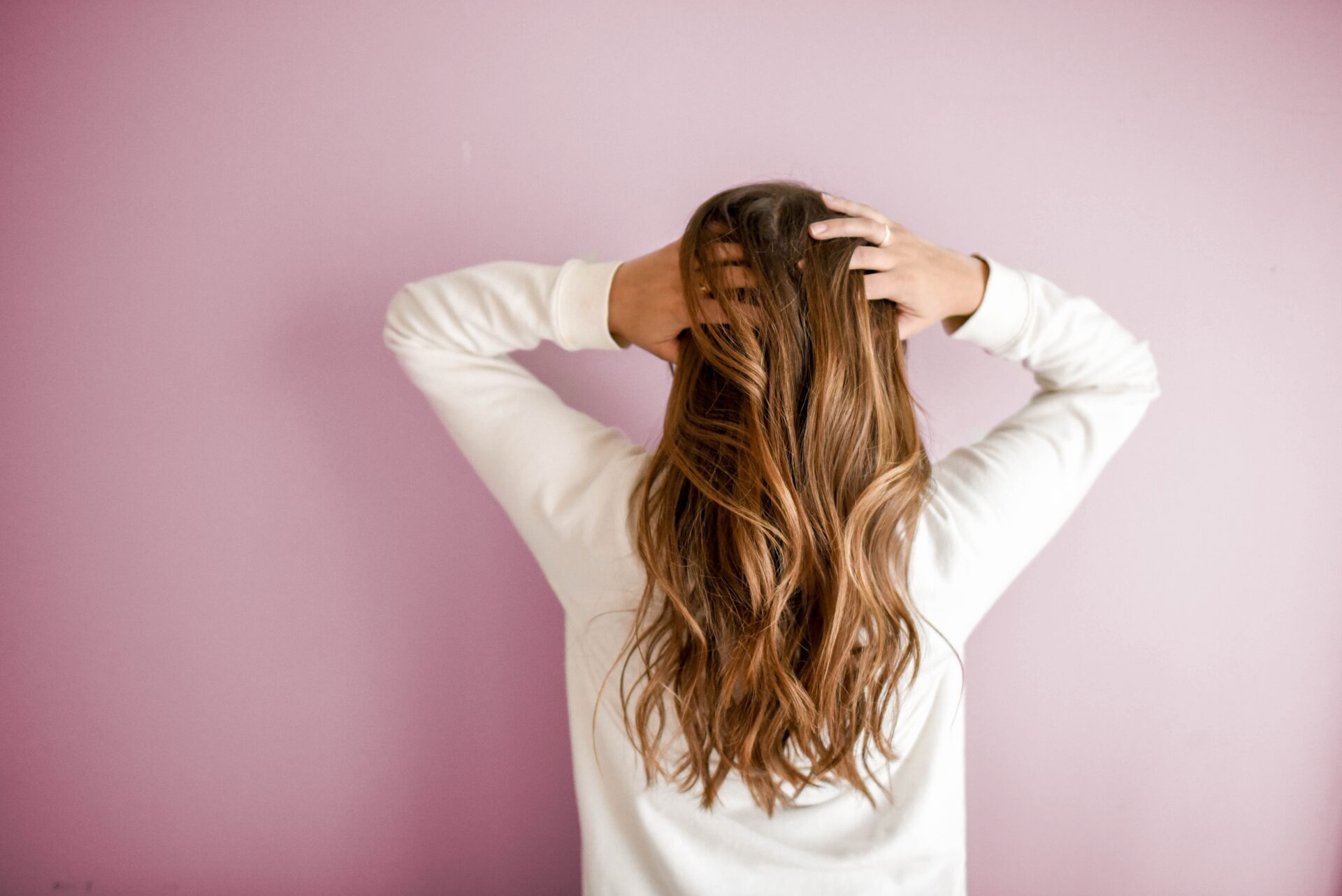 It will give you a rich hue to an already light head of luscious locks. Also, you will again benefit from the occasional bit of winter sunshine we see. We can all look forward to those moments when the hair has a glorious post-salon shine and we want to show it off.
With some blonde highlights into a darker brown base colour, your stylist can help you achieve the most gorgeous blended hair colour trends for the winter. It adds something a bit more special than a bog-standard box colour.
Ashy Balayage
One hair colour trend that is really making waves right now is the ashy balayage. This creates a slightly cooler alternative to blonde hair colours and it can be easily blended into darker hair for a more natural look.
It's perfect for those who want something lighter than dark hair but don't quite want to go all out with platinum either. Softly blended by a professional stylist, it screams winter vibes. But don't forget to refer to our other blog about the best products you can use for preventing brassiness!
Ombre
Similar to the ashy colour mentioned above, dark ombre is a great choice for those wanting something with more of a dramatic effect.
It's perfect for those who want to keep their hair darker whilst achieving a trendy winter look. It adds depth and dimensionality that really makes your style pop in all the right ways.
Another benefit of ombre styling is that it is less maintenance than a full head of colour. You can extend the time between touch-ups and still be sure it will look fantastic at each festive event! As well as this, you will still be able to show off the extra bit of glam with an up or down-do.
This makes it easy to look after, style and maintain hair colour trends for the winter months.
So what are you waiting for? Get booking at Chobham Hair Studio now and show off your seasonal hair colour with pride!
How To Style Your New Look
Whether you're someone who likes to keep things classic, or really wants to experiment with the latest hair colour trends, there is something out there for everyone this winter. So choose wisely and find a colour that best suits you – and the festive season!
After all, hair can make such a big statement about our moods and personalities; so why not take advantage of these stunning options and update your look for the new year ahead? You won't regret it.
Now we've discussed the hottest colour choices, it's time to briefly think about how to style these new looks. There are plenty of trends making their way into winter and 2023 that could be the perfect addition to your salon visit.
70s Blow-out
Want to recapture the retro vibes of spring/summer 2019? The 70s blow-out could be your solution. This style is all about getting that sleek, voluminous look without hours in front of the mirror or a hair straightener.
Using hair products that give hold, volume and shine, you will achieve this enviable look easily at home. Simply apply some mousse to damp hair before blow drying, scrunching up hair with your fingers as you go for added texture and bounce. It is fantastic for showcasing your new colour and especially the balayage and mixtures of different shades.
Full Fringe
Another hair trend to keep an eye on this winter is the full fringe. This doesn't always translate into a big chop, as sometimes pieces can be gently curled under and then pinned at the ends for that 'just out of bed' look.
This works especially well with dark hair colours; when paired with colour contrast, you really show off your new hue in all its glory. It also helps to frame the face and draw attention back to your eyes and lips – perfect for those no-makeup selfies!
Messy Bun
The messy bun is a hair trend we have seen stick around for multiple years. Whether this hairstyle makes it through to winter will be up to you. If you love it, keep rocking those hair pins and hair ties! You can also achieve the messy bun look with hair accessories such as jewelled clips or bows for those Christmas parties.
Even on shorter hair, you can keep some strands outside of the bun for a really relaxed look. It is perfect for getting everything out the way in the windy weather and keeping it looking put-together when wearing big coats, scarves or if you've just had enough of the straighteners!
Hair Colour Trends For The Winter: Get Started!
No matter what hair colour you choose this winter, there is sure to be a look out there that will suit your personality, style and mood perfectly. Whether it's ombre hair or a pop of something brighter, embrace these seasonal changes with confidence – and make sure to treat yourself to a professional hair appointment at our warm and cosy studio!
So what are you waiting for? Get in touch with our team today to rediscover your look this winter and ensure you can secure an appointment before the rush. With expert stylists on hand and the latest hair colour trends ahead of us, we can help you update your look in time for the festive season.