Summer Hair Colour: By Clare
May 19, 2017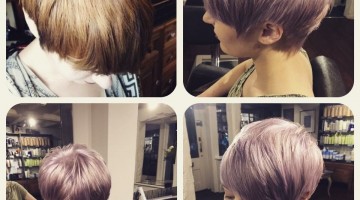 It's coming to that time of year when the sun is shining, the trees are starting to blossom and the flowers are springing up everywhere.
When the sun comes out everyone is feeling a little bit brighter and happier and with that comes the feeling of wanting to change your hair colour. Most people want to have sun kissed, summer ready hair. Now, if you are anything like me I change my hair with the seasons! I Always go red in autumn to match the colour changing leaves, but when that blue sky and sun comes out I want to go blonde!
It's really important that I get this across to everyone that is thinking of having a colour change any time soon. It's not as easy as it looks! It takes time and will not be perfect the first time you colour it. We live in a world where celebrities are forever changing their hair from dark to blonde and I'll be the first to admit that it's looks healthy and full and thick! But, the reality is they have probably been sat in the chair for a good 6 hours, had a lot of treatments and also had hair extensions to make it look better. It's not always difficult to change the colour of your hair, for instance, if you've never coloured your hair before it will be much easier to change because you don't have any colour product in.
But, if like me you have gone dark over the winter it is going to take a lot more work getting that colour out. I would never recommend you changing your colour at home on your own. The best thing to do if you are thinking of changing your hair colour, book into a salon for a consultation and we offer this service for free! The stylist can then recommend what road to go down and do any necessary skin tests, porosity tests and can work out if your hair is suitable for that colour change you'd like.
It's also important to remember that it may take a few times to get it the perfect colour you'd love. Sometimes going from blonde to dark, the colour will fade a little quicker as the blonde is still under there somewhere and is more porous, therefore it fades a little quicker. Your stylist will recommend the correct products for you to use, to prolong your colour.