Creative Training Blog : By Danielle
May 17, 2016
I have recently been asked by Chobham Hair Studio to embark on the creative hair training for our two trainees, Abby and Velvet. So far it's been a great success.
Even though both the girls go to College for the main part of their training that doesn't always include all the tools they need to be able to create whatever a client desires in terms of hair-ups styles.
I recently was asked to create a 'Motown' themed hairstyle for a client. This got me thinking that, perhaps given their age, the girls maybe at a loss as to what different periods of hair styles looked like.
So I set them a task. Choose a period in history and recreate a themed hair style from it. The results were fantastic! It was fun to do and their techniques are improving without them realizing they are learning.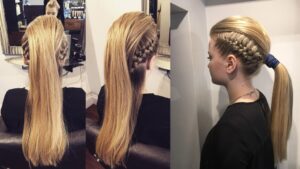 ---
Abby's 1990's inspired hair up.

---
Velvet's 1940's inspired hair up.
They were also asked to choose some hair ups that they would like to learn that are popular for weddings and evening functions. As you can see the results are very promising.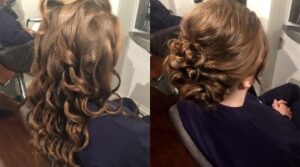 Velvet's before and after up do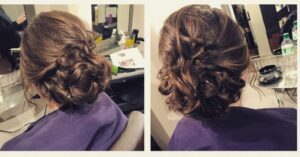 I think now is the time to get their speed up and test their techniques. So for their next challenge I am asking them to look at some chosen photo's of particular styles and they'll be given 15 minutes to try and create that look.
I am trying to make the learning experience fun and knowledgeable at the same time. In my opinion it is so important in this industry to keep up to date and fresh with the ever changing world of hair. Also equally important to learn the history of hair styles and the different trends that have been created over the decades. For me it's proving fun to teach again and it's keeping me on my toes.
Thank you for taking time to read my blog and keep an eye out for more photo's of Abby's and Velvet's creative training sessions.